I admit to not playing fair with you in my Saturday posting. I began with a professor's adage
about how to teach:
First you tell 'em what you're going to tell 'em.
Then you tell 'em what you told 'em.
Then I proceeded to cheerfully ignore the adage. I didn't tell you what I was going to tell you today. Instead, I tried to whet your appetite with several possible topics about which I might write. Hidden in that list was the following: "Will I share my reading of books by other bloggers?" And that's it folks. Today I'm going to share with you how a fellow blogger's book—The Sword of Senack—came to be written.
Ten years ago, Elisa Stilson gave birth to her second child. Two months later she and her husband underwent the harrowing experience of having to let go of Zeke. Elisa's firstborn, "the Scribe," didn't understand where her little brother had gone. She wanted to follow.
To comfort her daughter, Elisa began the bedtime story of a young girl—Aliya—whose brother Jack was spirited away. The intrepid sister followed him and ultimately rescued her brother from the dangers of Ophyrus, a winged orange dragon, and Constance, a vengeful witch who lives within a bone-chilling ice palace on the Isle of Deltre.
To do this of course, she needed magic. The magic of drawing what came to be, the magic of breathing in the ocean's depths, and the magic called love that does not tire when faced with the difficulty of finding a beloved brother.
Magic enabled her to leave the castle of Senack with its living mural that foretold the future and to venture into the ocean on a glass-bottomed boat she'd drawn. Encountering a whirlpool, Aliya's boat fell down, down, down into the watery deeps. Mystery lurks. Adventure beckons. Suspense tempts her to use the Golden Flame.
Within the ocean's depths, Aliya encountered eeriness: gladiators like Calder who laugh at death in the colosseum; Secrenas who hiss their own darkness; ancient giants like Teius who believe in possibility; and barbed Rentans who carry disease like a plague.
This cast of fantastical characters could have frightened a less spirited sixteen-year-old and sent her scurrying homeward—but not Aliya, not the Scribe who so wanted to find and comfort her brother. Of course, she also wanted companions—both in her home and in the story.
She got her wish: Elisa and her husband had three more children. Their blog names are "the Hippie," "Zombie Elf," and "Doctor Jones." As each of these children came along and became interested in hearing bedtime stories, Elisa incorporated her or him into her ongoing fantasy of the Sword of Senack.
Thus the Hippie becomes Sky, who knows the future; Zombie Elf becomes a pirate, who sports a black eye patch and eagerly seeks escapade; Doctor Jones becomes Indy, who awaits deliverance after the witch kidnaps her.
Ah, you see all the ingredients for a first-rate fantasy: Adventure. Improbable creatures. Suspense. Courageous children. And yes, adults who sometimes don't have their priorities right.
"Ah, my friends, and oh my foes," the Sword of Senack will draw you into an underwater world of peril with two talented heroines and a swashbuckling hero. You will wonder at the creative mind behind this book. A mind that envisioned an underwater world that will enthrall both children and adults.
For such is the power of Elisa's astounding imagination: she introduces you to that which cannot now happen on our earth and convinces you that all is possible to those who say, "Why not?"
For fellow blogger Elisa Stinson, whose fantasy I've so enjoyed reading, I have only this song to offer. It's what I want to say today to Elisa.
What I didn't tell you about last Saturday is the contest accompanying the publication of The Sword of Senack. Here's the information on that. Please do consider entering.
And please do truly consider purchasing the paperback or the e-book edition of The Sword of Senack. It is the first of four planned books in the Mer-son cycle. You won't be disappointed. Elisa is an accomplished and creative writer. She'll take you with her on an exciting underwater adventure.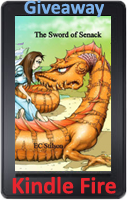 One of our favorite authors, EC Stilson, has done it again! She has graciously purchased a Kindle Fire to giveaway to one of her readers.
The Sword of Senack
is an epic fantasy about three children who embark on a journey to find their brother, but in the process may discover the truth about themselves. This tale of an underwater adventure is now available as a physical book and eBook through Amazon. It is also only .99 on Smashwords--for a limited time.
In addition to this exciting news, Wayman Publishing will be giving away $50, five signed copies of
The Sword of Senack
AND considering new talent for publication! Please check out http://ecwrites.blogspot.com/p/senack-writing-contest.html for more information about the art and writing contest.
Now, to enter to win these great prizes, please make sure to follow the Rafflecopter rules below. You must complete the MANDATORY entries to reveal eighty-two more easy, possible ways to earn entry points towards the Prize. Please remember, the more entry points you gain, the better your chances are of winning. So Good Luck!
The hosts for this giveaway are:
1)
The Crazy Life of a Writing Mom
2)
voiceBoks - The Voice of Parenthood
3)
Makobi Scribe
4)
WikiMommy - The Information Site for All Things Mommyhood
5)
Just Married with Coupons
6)
Simply Stacie - Product + Book Reviews, Giveaways, and more!
7)
Sassy Mama in L.A.
8)
About a Mom Blog
9)
Planet Weidknecht
10)
Coming Home to Myself
11)
It's Rhyme Time
12)
Good Steward Savers
13)
Sweep Tight
14)
Moms with Voices Media
a Rafflecopter giveaway